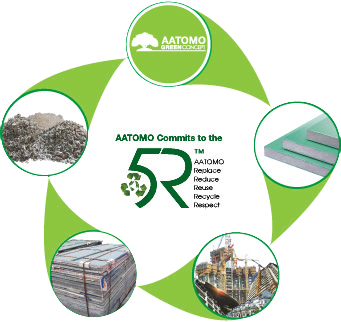 Doing our part in preserving our Forests
• Our Mission to preserve today's Forest
• 100% recyclable which helps in reusability as well as renewable materials
• Food grade resin & bio-fibers
• Reducing of climate changes & Global warming

AATOMO Buyback
Trade In - Program (ABTI)
• A ZERO adverse impact tou our Environment.
• 100% recyclable Guarantee.
• A product with an Economical Savings with our ABTI scheme.
• End Result saving more forests.
Application
• Suitable for High-rise, Commercial building,
infrastructure, residential & others application.
• Durability & Economical.
• The Resistance to biological degradation.
• The Resistance to water and moisture.
• Reduction in high cost disposal fees.
• Reduced costs associated with
re-fabrication costs.
Product
• AATOMO GREEN
CONCEPT
Panel an environmentally
sound alternative
replacement for plywood
panels.
Our Innovative Process
• Our Innovative State-of-the-Art
manufacturing process.
• Innovation in labor reduction.
• Our own design & Grant of Product Pattern
Right : MY-131528-A